Port Elizabeth Car Hire
Port Elizabeth International Airport
Port Elizabeth, South Africa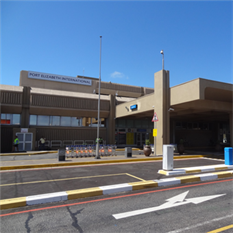 Lying a stone's throw from the ocean, Port Elizabeth International is the place you'd likely arrive if you plan on following the Garden Route down towards Cape Town or up towards Umtata. Woodford Car Hire can be found just outside "Departures" section.
Hours: 5am-11pm 7 Days a week
Monthly Car Rentals in Port Elizabeth Airport
If you are planning on a long term stay and want to take advantage of discount rates for longer term rentals, we offer affordable monthly car hire options on a wide range of the most popular and reliable vehicles.
View Long-Term Rates
Locations Served By Port Elizabeth Airport
Port Elizabeth Airport is the primary car rental branch for the following towns, suburbs and areas: