Inside Track Competition December
Inside Track Competition December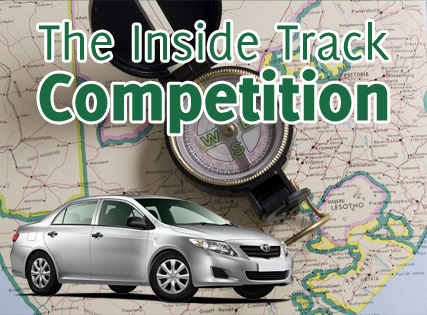 Have you got the inside track on the best South African Weekend Road Trip? Tell us about it an win
Send us an outline (No more than 500 words) of the South African roadtrip route a tourist should take and you could win the hire of a Corolla for 3 days with unlimited KM.
Entries may be submitted via email to jhb@woodford.co.za or posted to our Facebook Wall.
The entries will be judged on the originality and attractiveness of your description of your Road Trip. Places that foreign tourists will not have heard about before will give you an edge. The Road Trip should depart from Durban, Capetown, Johannesburg or Port Elizabeth
The Winner will be selected on the 23 December and will get a 3 Day Rental of a Toyota Corolla or Similar with Unlimited Kilometers.
Terms and Conditions.
The outcome of the competition is subject to the decision of the judge or or organiser of the Competition, whose decision is final, and no negotiations and/or correspondence will be entered into after the fact.
Competition entries open on November 22 2012 and close at 6am on December 23 2012.
Winners will be notified within one month of competition closing date.
Each entrant grants Woodford a non-exclusive, irrevocable licence to reproduce, publish and communicate their road trip descriptions to the public by any means. No remuneration will be offered.
If your entry is selected as the winner a R5000 Credit Card Security Deposit will be required upon collection of the vehicle and will be refunded upon safe return
You need to be at least 23 years old and have held a driving licence for a minimum of 36 months in order to claim the prize.
Woodford reserves the right to redistribute all unclaimed prizes if not claimed after two months of being announced.
Prizes may not be exchanged for cash or any other prize, nor are they transferable.